The S.S. Douglas
Around 20 years ago at the beginning of the 2000s, some fishermen started to hear some uncommon voices from the sea, to be precise Los Cóbanos Beach. The fishermen were frightened by its voices. One of them recalled that his grandfather had told him that a ship had sunk on their coasts in 1890. The ship was called S.S. Douglas. This was a beautiful and imponent English ship.
His grandfather had also told him that the S.S. Douglas had sunk while carrying a shipment of 10,000 bags of golden coffee to Hamburg, Germany.
That day was quite windy, and the storms were stronger than forcing the S.S. Douglas to collide off with Punta Remedios twelve miles from the Port of Acajutla. A place that since pre-Hispanic times has been important for trade and fishing.
After the tragedy, the crew members were directly taken to a Los Cóbanos clinic in an emergency, and due to the collision with the stones located on the beach, the ship stayed at that point and dived 24 feet deep.
The people around the town started to believe that the voices were coming from some crew members that were not so lucky to be saved.
In 2000, the architect Roberto Suárez dived together with Ramírez to find out more about this story anchored under the water. Roberto, using his own resources, undertook the task of investigating and documenting through photographs and architectural drawings what he could discover about this mythical ship.
He was able to verify most of the story, and he made an architectural drawing in which he details the parts that he currently presents. During the process, he estimated that the metal hull weighs 1,372 gross tons. He also determined that it is 239.8 feet (72.8 meters) long by 32.4 wide.
The architect highlights that the ship was built in 1872 by the English company Denton for the shipping company G. Pymam and Co.
Three years later the English sold it to the German Cosmos Line, and she is renamed "Sakkarah".
Many people have tried to create an underwater museum but until today, this is just a dream that perhaps, one day, we would have the opportunity to see.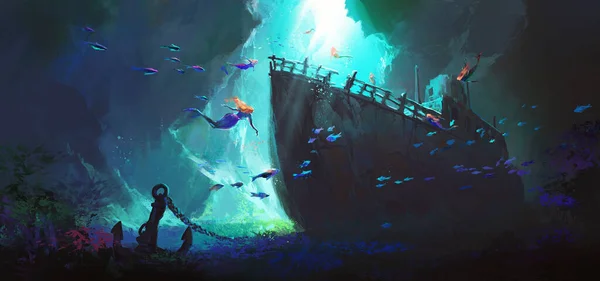 Figure 1. The S.S. Douglas.
¹